:: BUY Briar Now!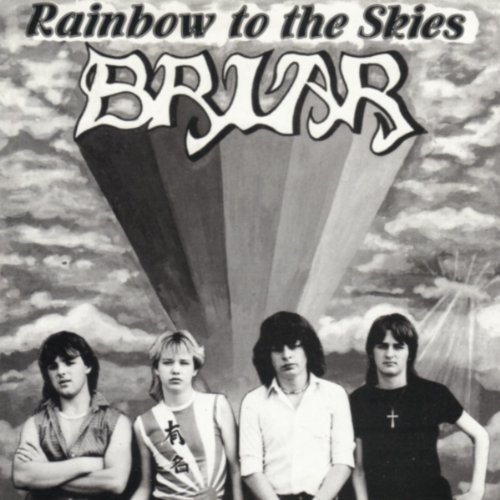 BUY 'RAINBOW TO THE SKIES' (Single)
now from:

iTUNES
|
AMAZON
|
PLAY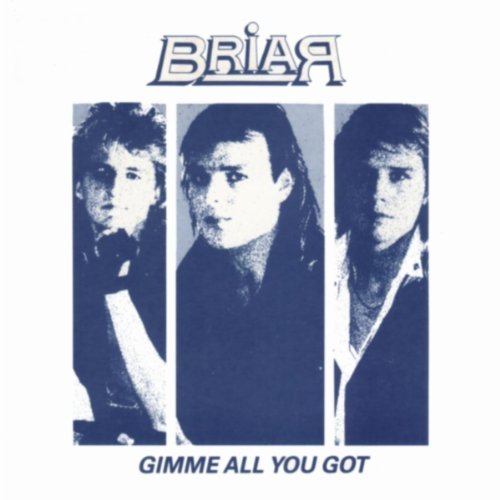 BUY 'GIMME ALL YOU GOT' (Single)
now from:

iTUNES
|
AMAZON
|
PLAY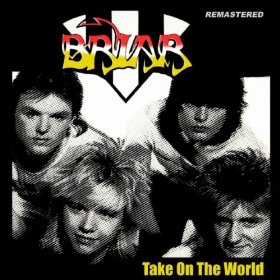 BUY 'TAKE ON THE WORLD' (Album)
now from:

iTUNES
|
AMAZON
|
PLAY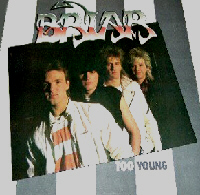 BUY 'TOO YOUNG' now from iTunes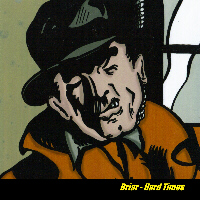 BUY 'HARD TIMES' now from iTunes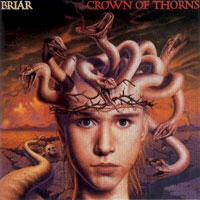 BUY 'CROWN OF THORNS' now from iTunes

:: Briar Story!
Briar were formed in 1979, by schoolfriends Kevin Griffiths (Vox/Guitar), Dean Cook (Drums), Dean Rogers (Guitar) & David Tattum (Bass), initially as a bit of fun to impress their mates, it is said the guy's played many gigs for friends in drummer Dean's frontroom......actually miming to Black Sabbath records, the mates were apparently impressed until one day.....the vinyl record they were miming to started to jump and kinda blew the guy's charade out of the water !! mmmmmmmm......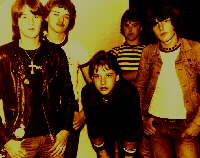 The band had used names such as Lucifer, Ark & Emerald in the early days....eventually settling with Briar when the they got pissed off changing names all the time !, the band started proper when Dean & Kevin went to see a band at the Solihull YMCA (no jokes please !) the band were called Streetcruiser and were fronted by a cool dude vocalist, as soon as the chaps saw this event they were hooked...........drummer Dean later said, "it was like a wonderfull dream, we watched the loudest band we had ever heard in our lives, they were like so loud, I couldn't hear for about a week after !! and they were fronted by this geeza who screemed as loud as possible over this noise, that kinda resembled music !!......it was bloody awesome !"..................the two guy's were hooked, they soon found out the vocalist in question George Bond only lived around the corner from them !.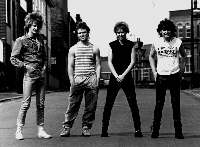 His life (sadly for him ! tee hee !) would never be the same again. Briar needed a manager and Dean & Kev were determined he was their man.

Dean remembers "George had this little Marshall Amp a little 30 watt combo, I think and we were round their everynight asking to borrow it for our rehearsals at David Tattum's house", George allowed the guy's to use the amp, but was apparently none too impressed when he found out, 3 guitars & 2 vocalists were all plugged into it, George remembers " I was invited to check the band out at the bassists house, they had turfed his mom & dad out for the night and set the gear up in the front room, the band started playing....it was the worst thing I had ever heard, I stopped them and said, have you tuned up, they nodded....and smiled, then I realised, they had, but not together, so you had 3 guitarists, tuned perfectly in completelly different keys.....they never sounded (quite) that bad again !".

The bands first gig under the Briar name was in 1980 at The Cameronian Club, Bromford, Birmingham to a huge crowd of friends.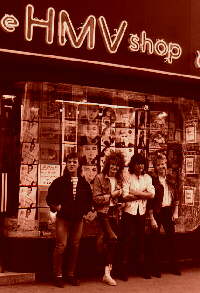 George was eventually convinced that taking on the band was a wise move and soon the band were gigging all over The Midlands, in this time a new bassist was recruited named John Smith, they quickly went from strenght to strenght, supporting the likes of "Cryer", "Bandanna", "Shy" & "Trouble".

In 1982 the line up changed and Darren Underwood & Dave Fletcher were recruited for the departing Dean Rogers, soon after John Smith also left the band and Kevin Griffiths took up bass guitar !, the new linup was Kevin Griffiths (Bass & Vox), Darren Underwood (Guitar & B.V's), Dave Fletcher (Guitar & B.V's) & Dean Cook (Drums & B.V's).

In 1982 the first Briar 7" single was released on (producer/writer Muff Murfin's) Worcester indie label Happy Face Records, the vinyl recieved brilliant press from the start, metal magazine KERRANG claiming "Another new band on their way to stardom !".

The first big break came when (then) top radio 1 DJ Peter Powell gave the band their first (of many!) BBC radio session's plus he dicided to put the band on their first live TV appearance on his top viewed programme "The Oxford Roadshow".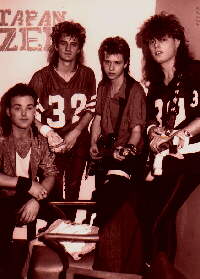 The appearances were a huge success for the band, who were now commonplace names at such top London venues as The Marquee (Wardour St), Dingwalls etc, the band then won a top Birmingham band competition called "The Hottest Band in Town" run by magazine Brum Beat, soon after that the band inked their first proper record deal with FM/HM Records and the first album "Too Young" (recorded at UB40's DEP studio) was released again with great reviews from UK rock press.

The band then started playing to full houses at such bigger venues as "The Hummingbird", "The Powerhouse" etc, in Birmingham plus playing support to (at the time) top bands such as Tygers Of Pantang, Statetrooper, Eddie & The Hot Rods & Angel Witch.

The band biggest break came in 1986 when they had put out a new longplayer titled "Take On The World", a great album of powerchord 80's pop metal !! still a favourite with many fans, pop guru Jonathan King rung the band up and decided Briar were just what the UK rock scene needed, the band were signed to his management company "JonJo" & George Bond was installed as full time personnal manager to the band, with Jonathan & (his brother) Andy as business managers.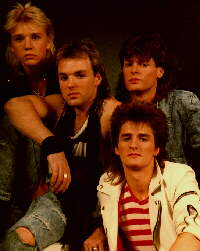 A new record deal with PRT was signed and a new single put out "Edge of a broken heart" was the bands first hit, No 1 in the national rock charts, ahead of the likes of Def Leppard & Whitesnake, the song eventually reached only lower reaches of top 50 in the national singles chart, owing to Gallup (chart organiser) banning it because Jonathan King had plugged it 2 weeks running in his "The Sun" national newspaper column.

Things went one better when top USA metal band Stryper picked Briar for their only UK date at The Hammersmith Odeon, this was a huge success for Briar, one Metal Hammer (Magazine) reviewer wrote: "I turned up late and went home early, I only regret arriving late, because Briar took the roof of The Hammersmith" he went on to slag Stryper off....Briar members weren't too pleased tho ! as they were huge Stryper fans !!.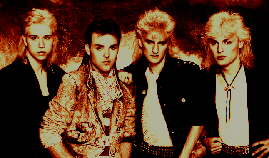 Briar now were doing gigs everywhere to full houses and in 1988 a new worldwide record deal was signed with CBS/Columbia and a new album album was released titled "Crown Of Thorns" and a new single titled "Frankie", in the UK thru JK's label UK/Pinnacle & CBS the rest of the world, but altho things were one the up the band were becoming dissalusioned with things, the band had recorded a new album's worth of material titled "Reach Out" which was never given an official release (much to their dissapointment !) and there were still influential people who felt with a major label release "Take on the world" would break the band worldwide.

This wasn't to be and officially the band parted company with Jonathan King in 1990 after the band's last major label 7" release "One Monkey" on A&M Records.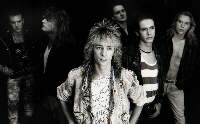 At this point band manager George Bond set up his own label Shotgun Charlie Records and put out 7" Gimme All You Got, this marked the return of Briar to their powerchord pop/metal roots, but years of struggle/success/struggle had taken its toll on the band and the first to leave the ranks was Dave Fletcher, then Darren Underwood, by 1992 the lineup had almost totally changed Kevin Billington (Vox), Kevin Griffiths (Bass & Vox), Dean Cook (Drums & B.V's), Mark Carleton (Guitar) & Jez Prosser (Keyboards).

The band put out one more single "All She Wants" & an album "Hard Times", the album being a neat keyboard/Bon Jovi'esque release, but alas by 1993 Briar was no more.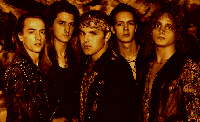 iSOUND.COM

:: Briar Links!

Briar Discography
Briar YouTube Video's
Briar FaceBook
Briar Myspace
Briar iTunes
Briar T'Shirts
Briar CD's to BUY!


::
Briar Email!


:: Briar Member Links!
Kevin (vocalist)



Kevin Links TBC!

Dean (drummer)


Tenboy
Machine Boy
Shotgun Charlie
ZZsTOP
Tinybluechildren


Darren (guitarist)



Darren Links TBC!

Dave (guitarist)



Dave Links TBC!