After a somewhat troubled childhood which ended up me being taken into
care for a couple of years, I eventually straightened myself out and left school as
(un) normal as any other 17 year old, I had my first job working in Foster
Brothers which was strange in itself because my grandad
used to take me to Fosters every Christmas for a new suit and now here I was
working there myself, mmm spooky !
It didn't last long and I entered into my first factory job making industrial taps,
after 2 years I got up one morning and realised I could not go on any longer
and I changed jobs this time making double glazing which Iasted 12 years,
I actually ended up as manager of the business.
It was about 1992 that Street Cruiser, the band I was now vocalist of was
becoming a dead horse and at this same time a bunch of kids, that had
been borrowing amps and microphones from me (!!) started pestering me
to be the manager of their band, they were ok guy's....but when I went to their
first rehearsal they didn't seem to understand that when musicians tune up they
actually all have to tune in the same key.......ha ha I laughed to myself
at the terrible din they were churning and my only thought was,
I give this 2 weeks before they lose interest !.
Initially I had started in the music business by complete accident,
I drove a friend of mine to a audition for a bass player with a band,
much to my amusement a month or so later the same band asked
me to be their singer, I could not believe I'd been talked into fronting a band,
I never had any interest in joining a band, let alone singing.

The Band was named Street Cruiser, after a couple of years at it, we
ended up as Cerb Crawler (he he) always an "injoke" and it was
around this time I became a band manager yes another position
I never ever dreamed, or to be honest wanted to do !.
I began managing this new band, who at the time (I seem to remember)
called themselves the godawfull name of Lucifer, I worked them as hard as
possible, at first just so they would hopefully get fed up and sack me,
I really had no interest in managing a band at all, but it had all started to go
surprisingly well and within a short time I had people calling me up to book, interview
& then want to dicuss record contracts, a couple of years after taking on the
band we changed the name to Briar and it became a full time job....
so I happily gave up my double glazing job & went full time Briar manager.
I had a serious kick back around 1984, when my Mother died with virtually no
warning and it left me gutted, but fortunately for me and for Briar they
had been offered their first decent record deal it was with
Midlands label Heavy Metal/FM Records and this gave me a little time to take a
back seat and try to get my head together again.
Some months later with things still going the right way for Briar the album
Too Young came out and was really well recieved by the music media,
radio, press and tv were all coming on our side and Briar were
creating quite a buzz.
I remember once while walking around London after a meeting at Kerrang
I ended up on Kings Road just to say I'd been there (as you do!)and on my way
back to Central London noticed this scruffy git stalking in the door ways,
to my surprise it was Bob Goldof, I shouted Hi Bob and he gave me a reluctant
wave back, not long after this he was the hero of Band Aid,
well done Bob, coincidently Briar were also being represented
by the Guitarist from Boomtown Rats in a promotions capacity
while signed to Heavy Metal Records.
Eventually after many gigs around the country, plus many at the bands
favourite venue, The Railway in Birmingham, we signed a new
pro management deal with superstar Jonathan King (so he told us anyway),
I found him one of the hardest working people I have ever met & known,
he would call me at about 7am in the morning which was great for
me because I used to get up with Ricky my newborn son at around
this time, so a regular chat with JK which would last anything up to 2
hours used to inspire myself and
Briar that we were starting to move up that big ladder.
The time we spent with JK came as a complete surprise to me,
there were 2 people in music I really wanted to meet, one was Paul McCartney
and the second was.......JK, I'm glad to say he was a very
interesting, sincere, focused & creative person than I had initially thought !,
although a couple of the Briar band members had reservations
due to his "totally honest attitude".
We stayed and ate in some of the most expensive hotels in
London etc, the whole thing I'm glad to say
was a once in a lifetime experience and I am gratefull for the chance
we had to work with JK.
The end of the JK time came after we had signed a deal with
Sony/Columbia Records in the states and I'm afraid we had a conflict on
what singles to release under the new deal, it went downhill from that point, but looking
back, I certainly would not change any of the past...!
A footnote to my (our) involvement with Jonathan King, in light of what has
happened and the imprisonment of Jonathan for past criminal offences,
his alleged past actions were in no way apparent when we were
working with him, in fact totally the opposite I always got the impression
that JK got all his satisfaction from the music business and spend
all his time trying to get the right results for the people he was working
with, for what he did for Briar and myself I thank him and his brother AK who was
one of the nicest people I have ever met.
After we left the JK stable, I went back to creative writing (which I had
dabbled with a few years earlier) and I had various comedy stuff, dramas and
a sitcom in the can which I was trying to get a deal on, sadly
(at the time) to no success.
The phone rang one day it was a top tv production company in London,
they were seriously interested in some of my game show ideas,
but after many meetings and phone calls it came to little, shame really I have
a number of game show idea's which would work really well if backed.
I have had more success with my comedy writing, Russ Abbott, Bobby Davro
and Naked Video and various others have used & expressed great
interest in my material, but I still battle on for the "deal" that my ideas deserve.
I have done a lot of music production/arranging/co writing & advising with some
great bands such as Wolfsbane,
Studmuffin & Shotgun Wedding, plus I have produced in some great
studio's such as CBS (London), West View (London) & DEP International (B'ham).
I have produced a lot of pop/rock promo video's & have worked with people
such as Ozzy Osborne, Bruce Dickenson & Lemmy (Motorhead).
Today I mainly pursue my creative writing, drama & comedy based stuff,
plus I have set up a few websites pushing our material
www.jeffandjeeb.co.uk (comix etc) www.shotguncharlie.co.uk (music)
plus I work heavily with Dean (ex Briar drummer) who is the only one from
Briar that still works hard for his music, his stuff is worth hearing, including
tenboy & Machine Boy it is all wrote, performed, recorded & released by Dean,
with a little help from me.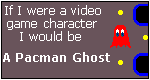 I am a Pacman Ghost.
I like to hang around with friends, chatting, dancing, all that sort of thing. We don't appreciate outsiders, and do our best to discourage others approaching us. I enjoy occasionally wandering around randomly, and often find that when I do so, I get to where I wanted to be. What Video Game Character Are You?